Heinrici Motor – Hot Air Engine
Let's explore the life of Louis Heinrici.
Louis was born on the 30th of July in 1847 in Togau. Torgau is a town that resides on the banks of the Elbe in north western Saxony, Germany.
Louis married Marie Deustler with whom they had three boys. Joseph, Ernst and Rudolf.
In 1876 Louis began the process of manufacturing hot air engines as well as other small engines in a rented location before building his first factory in 1884 in Zwickau, Saxony, Germany.
Initially he started out with minimal staff and equipment which only included a lathe and a forge. Louis grew the company to such a size that he was able to mass produce his engines.
The engines themselves came in 12 different sizes from a 26mm diameter piston (1/550HP) to 190mm diameter piston (1/2HP).
By 1914 (38 years of operation) Louis Heinrici had produced 21,000 engines.
Louis died in 1930 in Zwickau at the age of 83.
Jack guarding the Heinrici Motor
By 1920 Louis' middle son Ernst had joined in the family business and had been working hard on improving his father's engine to which he had made changes and applied for patents for on his own. In the 1920s Ernst released his new, improved motor which saw a bit of a redesign of the classic engine. The displacer had been changed to be driven directly from the middle of the crank shaft which differs from Louis' engine design which ran a a side leaver from the acentric on the flywheel.
Ernst's design was able to double the speed of the Heinrici motor to 400rpm and was available in six sizes from 1/50HP to 1/2HP.
These engines were still being produced up until the late 1940s in the same factory that his father had built in 1884.
Heinrici Heissluft Kraftmaschinen in 12 Grössen
(Translation) Heinrici Hot Air Machines in 12 Sizes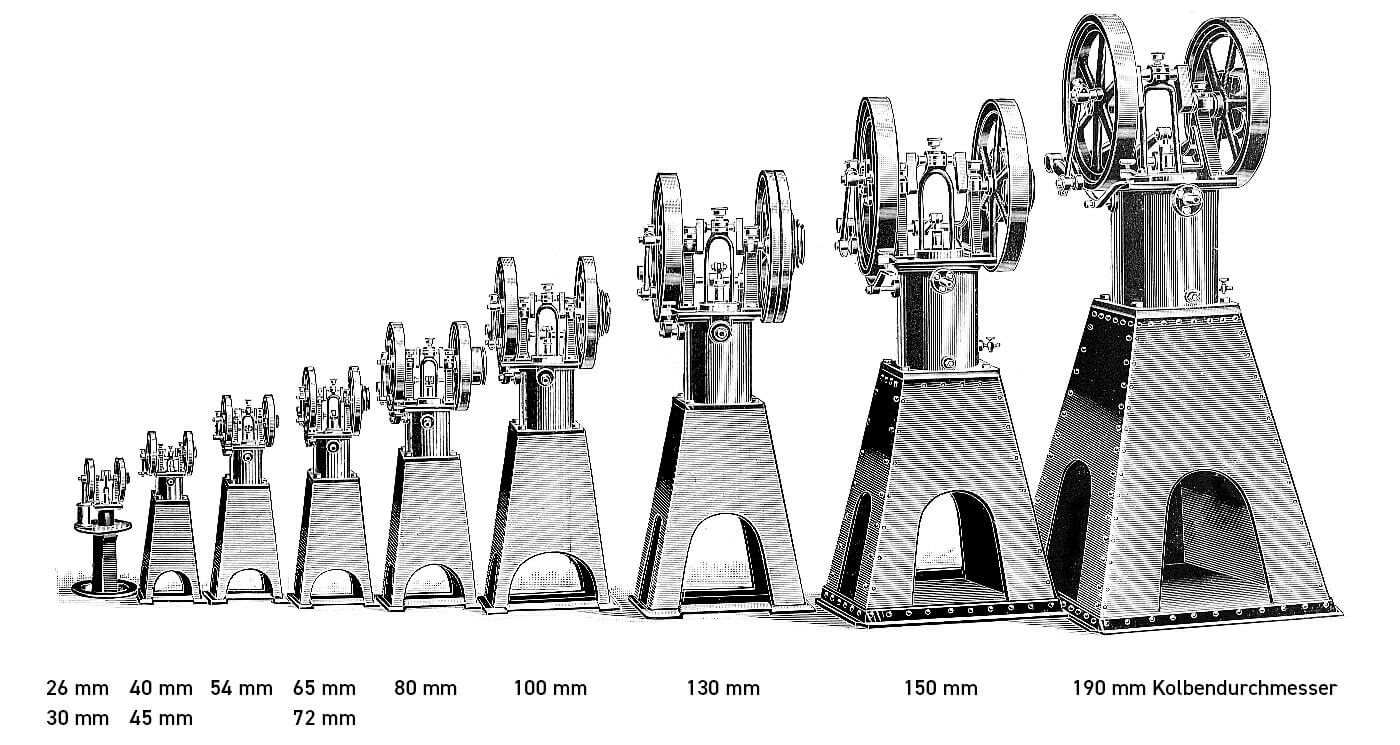 Heinrici Motors did not run engine numbers but were stamped with the patent number relevant to the year in which they were made. The patent numbers below should assist you in dating your engine.
UK pat 2629 – 1898
DRP 109983 – 1899
DRP 132447 – 1901
DRP 130172 – 1903
DRP 22540 – 1899
DRP 38505 – 1906
DRGM 61942 – 1896
DRGM 264479 – 1904
DRGM 288423 – 1905
DRGM 289570 – 1906
DRGM 354898 – 1908
As mentioned above the engines were made in a range of different sizes.
Louis' design was made in 26mm, 30mm, 40mm, 45mm, 54mm, 65mm, 72mm, 80mm, 100mm, 130mm, 150mm and 190mm.
Ernst's improve design was made in 6 sizes but I haven't been able to pin point the exact sizes. All the information that I have found is that they were made between 1/50HP to 1/2HP.