Ronaldson Tippett – Type TY
The Ronaldson Tippett Type TY, 1 ½ H.P. Air cooled 2 -cycle, petrol engine.
A Ronaldson Tippett production of efficient design and high quality. Compact, light, simple and low in first cost, this power unit gives a good account of itself on all classes of work.
Bore: 2  ⅛ inch.
Stroke: 2 ½ inch.
Usual working speed: 1,500 to 2,000 R.P.M., which provides for very slow piston speed.
Overall dimensions 13 inches high, 14 inches long, 12 ½ inches across crankshaft. Standard silencer projects a further 8 ½ inches above engine, but height can be reduced.
Centre of engine to end of driving shaft 6 ⅛ inches.
Driving shaft projects 2 ½ inches from side of engine.
Cylinder: In chrome-nickel alloy iron honed true to half a thousandth of an inch. Separate aluminium head for easy cleaning and high efficiency.
Main Bearing Bushes: In special bronze alloy 2 inch wide.
Crankshaft: Is of built up type with alloy steel crank discs and balance weights forged integral with shaft.
Shaft ¼ inch diameter. case hardened and ground.
Flywheel fitted on tapered shaft. Crank pin ⅞ inch diameter in special alloy steel, case hardened, ground and polished.
Connecting Rod: Is in special alloy steel. Big end is not split but forged integral with connecting rod to form outside case for big end roller bearing, 1 ⅜ inch diameter, ½ inch wide. This end of connecting rod is case hardened and ground. The rollers run between the crankpin and solid eye journal on end of connecting rod.
Split crankcase: In aluminium with base lugs for holding engine down.
Carburettor: is of suction type with adjustable needle valve to regulate mixture (Note that it is a Villiers Carburettor).
Petrol Tank: 2 quarts capacity. Lubrication obtained by mixing Ronaldson Tippett oil no. 21, Castrol XXL, or Vacuum mobiloil "D" with petrol in proportion of ½ pint to 1 gallon of petrol.
Magneto: Is of rotary type with special governor device. Hand controlled butterfly is provided to regulate speed of engine to suit load. Governor limits speed of engine when load is taken off. (Villiers flywheel magneto)
Weight complete: 49 pounds.
Standard Equipment: Three double ended spanners, one spark plug spanner, one starting belt, short length of exhaust pipe, one silencer, one funnel and instruction book.
Some Ronaldson Tippett products utilising the Type TY Engine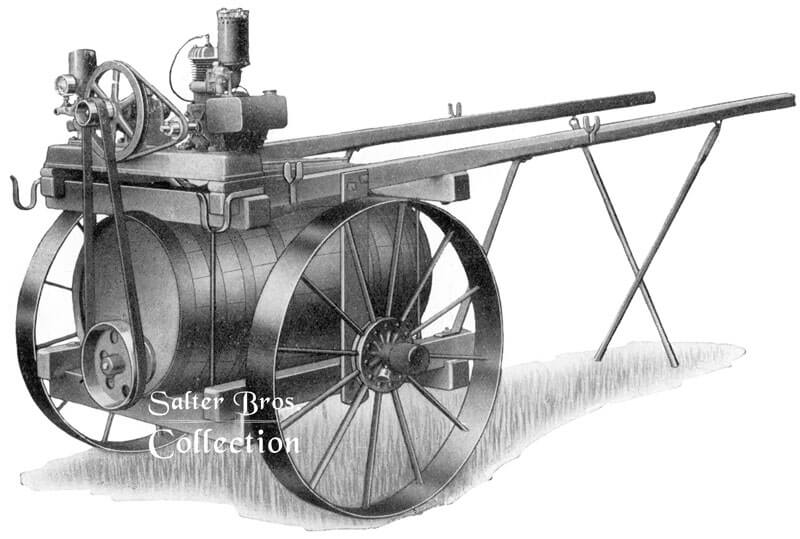 Ronaldson Tippett Type KY Sheep Jetting Plant
Ronaldson Tippett Type EY Pumping Plant