Ronaldson Tippett – Type CA
The Ronaldson Tippett Type CA Crude Oil Engine.
A high grade power unit embodying many modern mechanical features, ensuring long life and reliability with a minimum of duplicates.
Made in 3, 5 and 7 H.P.
This engine is built to the highest engineering standards as a perusal of the following specifications will confirm. It applies equallty to all sizes of our "CA" type crude oil engines.
Horizontal, 4 cycle, hopper or tank cooled, with enclosed crankcase, compression ignition cold starting (no magneto, lamp or fuses).
Working Principle
Air taken in on suction stroke through mechanical operated air valve.
Crude oil sucked into small enclosed antechamber fuel cup through mechanical operated fuel valve.
Fuel cup is connected to combustion chamber by two, or, in some cases three, small holes.
As piston reaches inner dead centre the highly compressed air enters fuel cup through small holes, causing an explosion to take place in fuel cup.
This forces fuel under great pressure though small holes into combustion chamber in the form of a fine mist, ensuring splendid combustion of the Crude Oil.
Ronaldson Tippett Type CA – 3 H.P. Crude Oil Engine
The average working speed of the 3 H.P. is 550 r.p.m. , whilst the 5 H.P. and 7 H.P. run at 500 r.p.m.
All castings throughout these engines are heat treated.
Bed of massive design having enclosed crankcase fitted with breather provided with air cleaner.
Seperate cylinder liner in chrome nickel alloy iron. This liner is flanged at head end and as water joints are independent it is impossible to have a water leak into internal combustion chamber.
New cylinder liner and piston can be supplied at same price as rebore and new piston. Anybody can remove and replace liner in quick time.
Cylinder lubrication by sight drop lubricator with forced feed pump.
Cylinder Head, water cooled – carries exhaust, air and fuel valves. Ample water space provided for efficient cooling. This head is held by four studs of large diameter. Replaceable exhaust valve seat in exceedingly hard alloy steel.
Chrome nickel alloy iron piston fitted with five piston rings 1/4 inch wide.
Showing enclosed type engine bed, with side flange carrying main bearings, dismantled.
Chrome Nickel aloy iron piston, with connecting rod and gunmetal big end bearing lined with the best white metal.
Gudgeon Pin of large diameter, case hardened, ground and polished.
Gudgeon Bearing in an entirely new type of bronze alloy, ensuring a minimum of wear on both pin and bearing.
Connecting Rod of high tensile steel forged from solid.
Big End Bearing of large diamensions – gunmetal with high grade white metal lining.
Main Bearings of big proportion in special bronze alloy. A wonderful wearing metal. These bearings are of the ring oiler type providing for perfect lubrication.
Crankshafts are big and exceedingly strong in high tensilte steel.
Two Flywheels of liberal dimeter and weight are fitted, and as balanced weights are cast into these wheels, steady running is assured at all speeds. Special flywheels can be provided for electric lighting at extra cost.
Half Speed Gears are carried inside crankcase and are automatically oiled. Half speed shaft carried in bronze bush.
One Cam works both exhaust and air valves. This cam although on outside of crankcase is protected by cast iron cover. This cover carries an oil sump into which the cam dips.
Governor of flyball type, providing for good governing. Governor actuates needle valve which regulates supply of fuel entering fuel valve.
Air Valve in nickel steel and carried in replaceable bushing.
Exhaust Valve is special alloy steel providing for the highest tensile strength under heated conditions. Valve carried in replacable bushing.
Fuel Valve in seperate case. Valve in special metal for long life with a minimum of attention.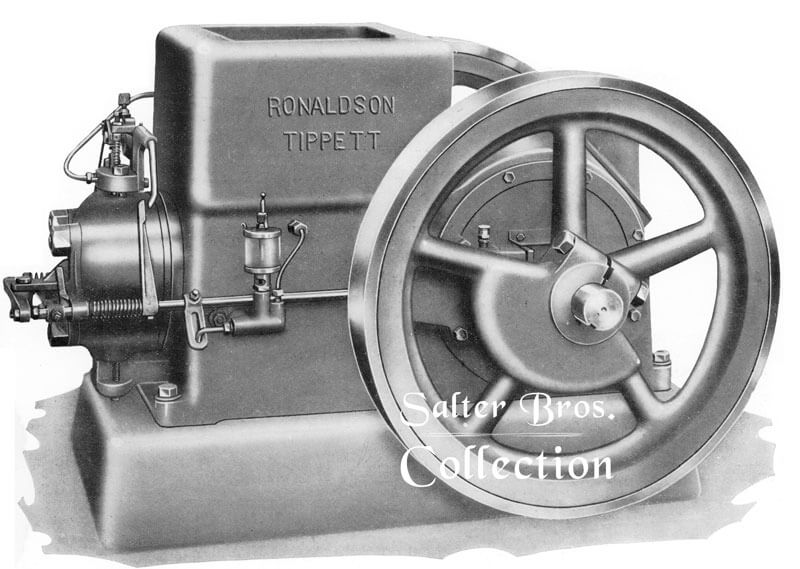 Ronaldson Tippett TYpe CA – 5 H.P. & 7 H.P.
Fuel Tank carried above hopper to secure necessary head pressure to fuel valve
With Enclosed Crankcase and special cover over cam gear, the engine is proof against oil leaks.
No lubricating oil will drop from engine onto concrete foundation. A feature which will be appreciated by most users.
Equipment includes pulley, starting handle, tools and oil can.
When an engine is sold as a tank cooled Tpe a place is fitted to close top of hopper.
This engine is a thoroughly high grade production. Both material and workmanship are of the very best consistent with Ronaldson Tippett traditions for quality productions. It is an exceedingly sturdy power unit and working on the cheapest type of crude oil ensures the lowest possible cost. The general finish is all that can be desired, and the engine is of very pleasing appearance.

Illustrating the type of crankshaft made from special high tensile steel.
This crankshaft after forging is turned, ground and polished true to within half a thousandth of an inch.
These engines will work on crude oil, distillate (diesel) or kerosene.